WELCOME to Open Journal Systems (OJS) Jurnal Peternakan Indonesia (JPI) "Indonesian Journal of Animal Science".
Jurnal Peternakan Indonesia (JPI) published by Faculty of Animal Science Universitas Andalas, as a media publication of research results, assessment and deepening of literature on science and technology in the field of animal husbandry and veterinary. JPI is published to refine and continue the Livestock and Environmental Journal (JPL) that has existed since October 1994. JPI is published three times a year in February, June, and October. Accepted/received scientific papers have not been published or are being considered for publication in other journals.
More information about this Journal is available on Journal history.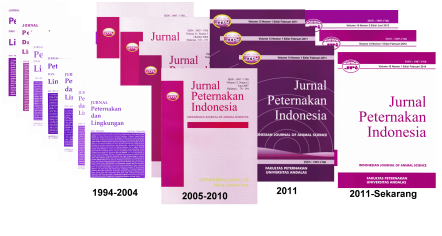 Announcements
Call For Manuscript Submission

Jurnal Peternakan Indonesia (JPI) / Indonesian Journal of Animal Science received manuscript for the issue:

Volume 21 (2) June 2019
Volume 21 (3) October 2019
Volume 22 (1) February 2020

Manuscript and Author Stetement Form should be submitted electronically through online system/website:
http://jpi.faterna.unand.ac.id/
Authors are unable to submit electronically could send the files to email:

jpi.andalas@yahoo.com

Note: Any article submissions through the website, please kindly confirmed via email.

We also invite reviewers for reviewing our Manuscript on the JPI in accordance with expertise that reviewers have with terms:

Reviewers can email there profile/Resume (fill out the form) to our email id: jpi.andalas@yahoo.com
At least had the title of doctor.
In the last 3 years at least once wrote an article (correspondent author) or at least 3 articles (as a co-authors) on the periodical scientific Journal.

Posted: 2019-04-09
Vol 21, No 1 (2019): Jurnal Peternakan Indonesia
Februari 2019
Table of Contents
Vol.21, No.1 (2019)
| | | |
| --- | --- | --- |
| | F. D. Perwitasari, Bastoni Bastoni | 1-9 |
| | | |
| --- | --- | --- |
| | T. Arianto, H. I. Wahyuni, E. Kurnianto | 10-17 |
| | | |
| --- | --- | --- |
| | S. Pakage, B. W. I. Rahayu, A. G. Murwanto | 18-26 |
| | | |
| --- | --- | --- |
| | Nurcholis Nurcholis, S. M. Salamony | 27-33 |
| | | |
| --- | --- | --- |
| | A. Fitriani, S. Alim, L. Herlina | 34-50 |
| | | |
| --- | --- | --- |
| | A. B. L. Ishak, M. Takdir, Wardi Wardi | 51-58 |